Interview with Kim Crayton
What do you do for a living?
I left teaching in August 2014 after my father passed away and decided that I'm going to do what I want to do and not be afraid of it. I've spent the last 11 months teaching myself to code, so right now I'm looking for work.
Do you have any hobbies at all?
I'm not a hobby kind of person, You would think in the last year that it would be coding because that's all I seem to be doing. But, yeah, I don't have any hobbies!
Okay, cool. What are you interested in, personally and technically?
Technically, the things I am interested in are Internet of Things things, data and security.
Do you have any projects that put those together at all?
I was in a doctoral programme which I recently quit because the topic was going to be about personal data but as I was getting to the research part of it I realised that anything I wrote about security that took me two years to write would be so obsolete by the time I wrote it and by the time it came out. I was like, yeah, I can do this on my own! So I'm looking for places where they meet. I'm very new to technology, so spending a lot of time just learning. On my bucket list this year is to go to DefCon. I've gone to a few hacker and security conferences here in Atlanta but I haven't started working on any projects. I've just been focusing on just learning the code as I'm getting better I'm seeing where those fit in.
My friend Lewis Cowper is two years into his career now. He gave a talk last year about becoming a developer and he said the first year is so overwhelming because there is so much to do, so much you can learn, where do you start?
Exactly. Anything can take you down a rabbit hole! So my thinking is, let me just get this part and when they converge and I see them converging, then I'm good! But I'm not chasing anything just learning the code is enough!
Why did you apply to Scotland JS?
I woke up (literally!) and I read a newsletter called Technically Speaking. I heard about this newsletter through CodeNewbie, a growing community of people learning to code. We were having our weekly Wednesday Twitter chat and the topic was speaking. Speaking was a part of my pre-tech life and I was trying to figure out where I could fit in to the technology space although I don't have the coding skills yet. I was trying to figure out how can I put myself out there, and still be a newbie and have something to share. So I decided that in 2016 I was going to apply to conferences and start speaking. I started with local meetups here in Atlanta and then Technically Speaking newsletter came out and I just applied. I'd never heard of Scotland JS and thought "this looks fun". The thing I did like was the help and support with your proposal and everything they were giving people who had never spoken at technical conferences before,. I found that very interesting.
Yeah, when I was applying last year, they had hangouts with prospective speakers to tell them a little about the conference, about what sort of topics they want, about their code of conduct. Every aspect about the conference and the amount of out-reach they put in really helped push me over the line into actually sending in a proposal. I'm so glad I did! I really enjoyed it.
Yeah. One thing about Technically Speaking is that they vet the conferences they promote. They focus of technical conference that have codes of conduct and are welcoming people from under-represented populations. I was, like, okay! The assistance that was provided by the ScotlandJS team was very helpful.
Have you been to Scotland before?
No, I am so excited!
It's so beautiful, the venue is right on the edge of Holyrood Park in Edinburgh. It's right next to Arthur's Seat, which is a big hill. It's very scenic, and hopefully if we have good weather it'll be very nice.
Yeah, Peter and I had been in contact and I asked him to send me information on non-tourist things to do and so I can see the real Edinburgh. But yeah, that was also on my bucket list to do more international travel, and do it speaking.
What is your talk about, without giving too much away?
Let me give you some background. I come from education and youth development and I've worked with learners aged 5 to over 90. I've done after school, summer camps, in-school, GED programmes (high-school equivalency), and diploma programmes. I have a masters in training and development so I've taught learners inside of corporations.
So being new to technology and coding can be very frustrating and my topic stems from an article I wrote called "Stop Lying to Newbies", this lie people keep telling trying to get people into coding. Saying how easy it is, how you can get an amazing job. It's not easy. It's very difficult. But it's worth it and people can do it. But it's disheartening because you finish your programme, or bootcamp, or doing it on your own and when you can't get a job you think that something's wrong with you. People aren't being honest about how long it takes them to get their dev environment set up. As a newbie, because of all of the resources you don't run into these challenges - your challenges are just syntax. You have no idea what the real world is like, you have no frame of reference. You think that it's not for you and then you end up beating yourself up, and a lot of people leave. The industry needs programmers. They need to do a better job of leveling people up to being junior devs.
There's a big canyon between finishing any kind of programme and getting a junior level job, there's so many things that newbies need to know that they don't even talk about in these programmes. I know people who have gone to bootcamps who have never done GitHub. There are a lot of moving parts that if we had mentors, someone who brings that reality to what it's like to be a programmer to it. Let's be realistic. It's going to take me more than 90 days, it takes more than 90 days to be a doctor, if I was given that conversation at least I would know what I was getting into. And then having somebody again who has been there.
I equate learning to code like being in the Wild West. There is no straight shot, everyone is on their own, everyone is a cowboy and if you don't have someone in your ear who is guiding you it's a challenge. It's just so foreign, it's not like any industry I've ever been in.
Coding is such an open community with so much open source, so many people willing to help, just like this conference. Paying some of the fees just for me to come to speak at a conference. They're so willing to help, but there's still a bridge between helping people to level up. People who want to be mentors find it challenging, and corporations who want to bring in mentoring programmes don't know how to do it. So it's overcoming those challenges of mentoring.
What are you looking forward to?
Finally putting a stamp in my passport! I've had a passport forever and just have not, for whatever reasons, not gone anywhere.
Seeing how - coding is such a small community, but it's an international community - I'm interested in seeing what it's like in other countries to be a coder. To hear about the challenges other people have and the solutions that are taking place in other countries. Being from the United States, that's all I hear about. Our tools, our resources, our leaders, and you don't hear about what's going on really in the world.
And I'm interested in vacationing in Edinburgh, as well. It's going to be my first tech conference - that's a good check-off for my first tech conference.
Cool. My last question is about the discussion track, whether you had any feedback. -Explains discussion track-
I actually found it very interesting. Since I've been doing this presentation, I've been required to do it in as little as ten minutes, and as much as 90 minutes. And so, it's run the gamut. People always have questions about the next steps. I believe people need action steps. This will be a built-in piece of what I don't often get with presentations at meetups to see what people's pain points are, to see what people are interested in and come up with ways that they can be effective mentors.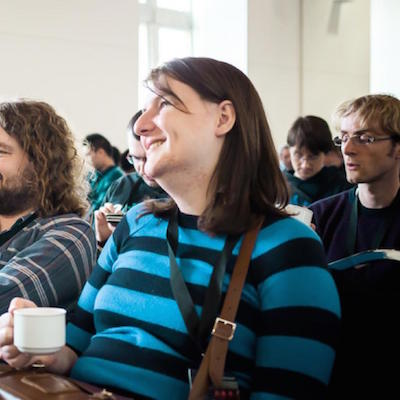 Interview by Katie Fenn